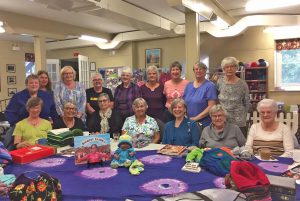 Members of the Helping Hands are a group of people who knit, crochet and sew.
They make items for various missions and charities.
Supporting local drives like 'Keep Kids Warm' and the 'Nightlight' drop in center!Sweaters, hats and ponchos for 'Mully's Children' family   in Kenya.  Baby sweaters and blankets for 'Silent Children Mission' in Malawi!  Lapghans and blankets for street missions.  Prayer shawls, cancer caps and warm things for the 'Warm Hands Network!!
If you don't know how to knit, sew or crochet, they will teach you in you are interested to learn!
Else you can just hang out with the group, they can always use yarn winders.
The Helping Hands group meets 2nd and 4th Thursday of every month at 1-3pm.